Here in Arizona it appears that either Spring is here with gusto...or, we jumped right into Summer! It has been in the 80's the last couple of days, with more in the forecast - even some places in the 90's.
That's okay with me, however. I am ready for warmer weather. I love having windows open, and the dogs love lying in front of the door looking out to see if the neighborhood cats are trespassing. Life is good.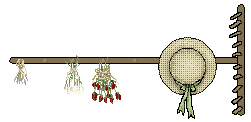 Gardener is not exactly a term that one would use to describe me, but I do love working in the yard. Now that I have some of my energy back, I have been doing a little raking and cleaning up in the backyard. It's a meager effort that makes me feel good. Baby steps...that's the key. I'll do what I can and ask for help with what I can't.
It is time to put the outdoor plants back outside. They've wintered in the house long enough. Warmth and sunshine will bring them back to their ol' selves and my carpet will no longer be clothed with brown leaves. I refer to this as the "greening of the entryway." (chuckle) A bit of nature to welcome guests.
There you have it - my to-do list for the next week or two. How's the weather in your neck of the woods? Are you puttering in your garden?