Lately I have been in a slump...a Grand Canyon size one. As some of you know, I have been having health issues with no solution so far and it has taken most of my energy from me. Whenever I feel like I should be writing, I find I can't sit at the computer long enough to accomplish any more than reading a few emails and checking facebook to see what my kids and grandkids are up to. I bet some of you have had a similar experience, right?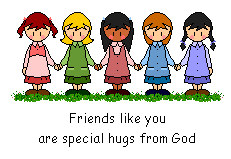 Well...I have found that having a Blog Buddy is not only a huge help, but also a Godsend. Having someone to confide in...to actually admit I don't feel like writing, or have lost my creative edge even for a short time is just what I needed to get back in blogging mode - more than once in the last six months! Thank you,
Ginger
! Friends are sympathetic, but unless they are writers, they just may not "get" the lousy feeling we get when we want to write or feel like we "should" write, but we can't or don't have the oomph to get it done!
Why, I was even on the verge of saying "Bah Humbug" to putting up a Christmas tree and decorating the house. Yep! I was having a regular ol' pity party right here in the comfort of my own home. That's when I was rescued by my friends - and my Blog Buddy Ginger. Little do they know how much they helped in snapping me out of my blue funk! Oh, it likes to rear it's ugly little head now and then, but I can squash it now. Like today when my daughter called. Bless her, she was just checking up on me and here I was, sounding forevermore like Eeyore! She must have been so happy to get off the phone and away from my doldrums! I feel awful for sounding so glum on the phone! Ugh! I squashed that Eeyore syndrome and made a concerted effort to present a happier me...I hope it worked! A note from Ginger caused a burst of laughter and I realized there was joy hidden inside of me and I needed to let it out! (smile)
So, all of this is to say, thanks to my family, friends and my Blog Buddy, Ginger for being my angels! Yes, you are Godsends and you mean everything to me! And, to let you know that I plan to / will make an effort to / want to get back to my blogging, even if it is sporadic, short, silly or whatever pops out of my little head. But, I miss all of you so much, I just hate to be missing in action!