Here is some helpful information I found in my online "travels." It is good for parents as well as Grandparents...and I'm almost certain there are some Aunts and Uncles that could use this as well. So, let's begin thinking "outside" the box when it comes to the Kiddos!
Every year parents spend oodles of dollars on technology, toys and activities for their kids. While many of things are ideal for keeping young minds and bodies active, many more are unnecessary. Yes, kids need structured play, but they also need "free" play. When the world's largest playground is right outside your back door, why not let them play outside? That's where I was from sun-up till sundown! My Mom had to call us in when it got dark! We played baseball, soccer, cowboys and Indians, hide and go seek, and who knows what else! Outdoors was where the action was, where your friends were. It was the place to be!
Every toy, book, and TV show that comes out has been designed and redesigned in order to make it educational and entertaining for children.

The great thing about nature is that, while being entertaining and stimulating to the imagination, it's also educational. Nature can teach children the basics of science, economics, and creativity.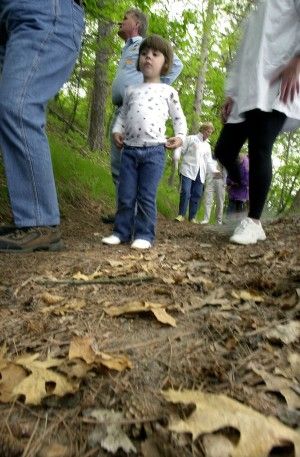 Here are some reasons to go outdoors:
It's cheap. Depending on where you live, exploring nature is usually pretty inexpensive, if not free. It may mean going out in your backyard, to a local park, or taking a trip to the local nature center or state park (which usually have reasonably priced fees or memberships). Think of the savings - you don't have to pay for expensive toys, jungle gyms, or memberships to expensive entertainment centers, but you still get the benefit of stimulating and educational play.
It makes them think. Have you heard about a trend in education towards inquiry based learning. Researchers have found that if students explore and experiment to figure out answers on their own, they're going to learn better, and retain more information. (That sure beats all the memorization in my day!) It also helps them develop skills to be able to learn things on their own later. Nature is the perfect environment to learn things.

There are lessons for kids of all ages waiting to be discovered about the world around them.
It may help the world. Everyone these days is trying to be more green and more environmentally conscious. (You can check out my very own "green" journey at
Green Living Thrifty Frog
blog.) What better way to help do your part than to get your children interested in their own planet than when they're young and their minds are like sponges? What might be a fun time for them now, might be a future hobby, career, or, who knows, one of them my come up with a world-saving invention.
It's fun. It's all too easy to forget, that childhood isn't just for learning about how to be an adult. It's also about having fun and being a kid. Nature gives kids a chance to use their imagination and be free to just be kids.
While unstructured play outside is great for kids, you should check your local park, zoo, or museum to see what they are offering in the way of structured classes and learning sessions for kids that focus on the natural world. They may have classes you can sign up for, and since many of these places are not-for-profit, they're usually affordable as well as informative.
Across the world, there are millions of dollars being spent to help promote sending your kids outside to learn from nature.

That's because spending time in the outside world is so important for developing minds. It can also be a great escape for you as well.
So, get out and explore...have an adventure...use your imagination! Think "outside" the house!
There's another

giveaway going on at Green Living Thrifty Frog

blog! Hop to it - enter to win "The Complete Idiot's Guide to Composting" book!