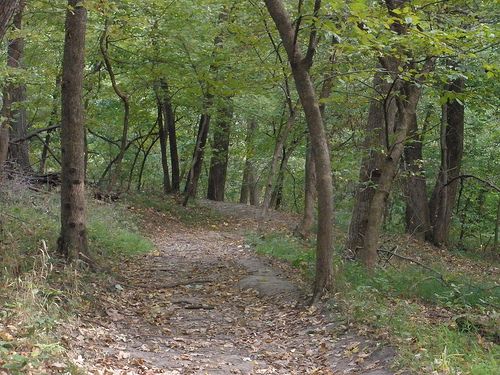 Fontenelle Forest, Omaha, NE
Photo: christinejwarner flickr.com
Have you ever had a word or a sound or smell take you back to a memory of your past? That happened to me the other day. I read the word "Fontenelle" somewhere and thought back forty some years ago when my kids were young. We used to go hiking in Fontenelle Forest in Omaha. It is on the banks of the Missouri River - a large diciduous forest full of all sorts of excitement for young and old alike.
Fontenelle Forest, Omaha, NE
Photo: christinejwarner flickr.com
Trails wind throughout the land set aside in 1910 by Dr. A.A. Tyler and Dr. Harold Gifford, Sr. Back in the sixties and early seventies when we found adventure there, it was mainly used for hiking and picnicking. Nowadays it has a nature center and organized activities. There were occasional nature hikes and our favorite (I think) was the night hike around Halloween time. It was just the perfect amount of "scary" for young ones and we had a great time. It gets pretty dark in a forest after dark, in case you weren't aware - BOO!
Fontenelle Forest, Omaha, NE
Photo: christinejwarner flickr.com
Many times we hiked down to an old railroad bed and walked along the tracks. Sometimes the kids posed along fallen tree trunks for photos as we marched along. I am sure we found many interesting things along the way, but at this moment, I can't remember what they were. I just remember fun times, laughter, and family time in the forest.
Do you have a favorite memory from long ago? One that brings a smile to your face every time?