Please welcome my Guest Blogger for the day - Galen Pearl from
10 Steps to Finding Your Happy Place (and Staying There).
Galen's blog is full of helpful advice for changing our habits and living a more joyful life! Take a minute or two and check it out...you will be glad you did.
After reading her posts, I knew right away that I would ask her if she would write a post for us. She is a busy person and I am so grateful that she found the time to do just that. It is delightful, insightful, and joyful! That's a lot of "fuls" ~ just for you!
Enjoy...
Take Your Medicine!
A cheerful heart is good medicine.
–Proverbs 17:22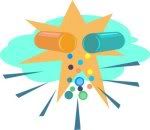 One spring years ago, I was talking to the child psychologist who worked with my autistic son. I was going over several therapeutic program options for the summer. One option I dismissed quickly by saying, "This one would just be fun." The doctor leaned forward until he was sure I was paying attention and said slowly and deliberately, "Fun...is...good."

I guess all those years of training paid off for him, because that was one of the smartest things I ever heard.
When my kids were little, fun was not often on my radar.

I was a single parent trying to juggle work, a special needs child, and another child who was so high maintenance that she made autism look easy.

I was chronically anxious and stressed and exhausted.
Fun?

What was that?

When the doctor said those words, however, something about them rang true in the far recesses of my soul.

I knew that how I was living was not healthy, for me or for my children.
I had to learn to have fun.

I got to be very good at it!

Years later, I am healthier and my children are happier because I listened to that wise doctor.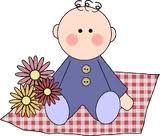 Yesterday, I spent two hours sitting on a quilt in the grass with my almost nine month old grandson.

It was a gorgeous spring day.

He had two toys to play with, a ball and a cardboard box.

The ball went in and out of the box.

He went in and out of the box.

He and the ball together went in and out of the box.

There were bugs to watch and birds to listen to.

There were flowers to smell and grass to pull.

There were neighbors to visit with.
Every now and then a thought would pop into my head.

Oh, I should be thinking about dinner.

Oh, I should be working on my guest post for Grace in AZ!

Oh, I should be...

Then I would look at my grandson totally absorbed in watching a ladybug and realize that there was no better place to be than right there on the grass, no better thing to do than watch a ladybug.

I realized that nothing or no one or no place could make me happier than I was at that moment.
He looked up at me and laughed, and I laughed back.
Laughter is the closest distance between two people.
–Victor Borge
Hugs and huge thanks to Galen for a wonderful lesson!
Be sure to check out my
Giveaway
!
You could win
1 Qt of Tropical Traditions Gold Label Virgin Coconut Oil!
Click on the button and
enter now
!
"If you order by clicking on any of my links and have never ordered from Tropical Traditions in the past, you will receive a free book on Virgin Coconut Oil, and I will receive a discount coupon for referring you.

Please use User ID 12125243."