Utensils. That is what has been on my mind lately. I'm wondering just how many spoons is enough? Or forks, knives and soup spoons? You see, there are only two of us in this house who use flatware. Moses and Jacob (our furpets) only want to see a spoon if it means dinner is being prepared...for them!
And, our kids and grandkids all live 3 hours or several states away, so they are not likely to drop in for dinner anytime soon. So, is service for eight enough? Apparently not if you check our dishwasher. We are forever running out of everything! Even when we run the dishwasher three to four times a week. Right...just the two of us. Tsk...you'd think the neighbors were dropping off their plates and such on their way to work so we could clean them before they come home!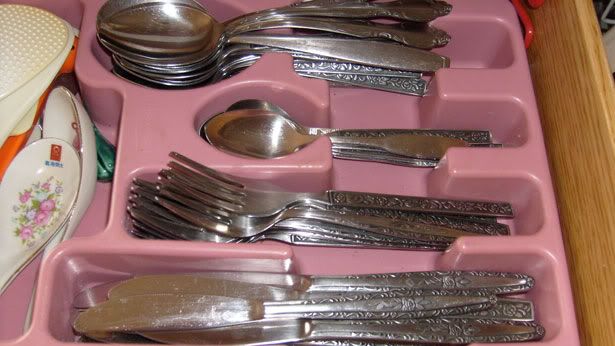 After pondering this situation for days, HB (HoneyBunny) and I drove to the PX on Ft. Huachuca (that's "Waachooka" as in sneeze) and purchased another eight piece setting of the Oneida we already have. Now, we have service for 16. Enough? HB isn't too sure. He was reaching for another box when I had to bring him up short! No, no, no, said I. Sixteen is a large number of place settings for two ol' folks. Let's just stop there. He stood back, thought about it, and we agreed we had enough...for now.
But the questions still niggles at the back of my mind. How many spoons is enough? How many do you have? Do you run out of one thing or another and have to hand wash them at the last minute?