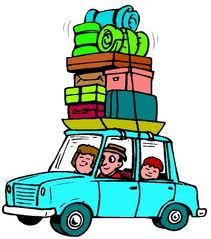 Many of you are heading out for your annual Summer vacation, full of expectation, ready to relax and enjoy the beach or the lake, or a hike in the woods - maybe a visit to a museum or an adventure park. That's what summer memories are made of. We remember long ago when we would head back to school in the fall and one of our first assignments was to write about our what we did during the summer.
I'll enjoy summer travels (yours) by reading your blogs and pretending I am right there with you, dipping my toes in a pool, resting in a hammock, having a picnic with Aunt Myrtle. Our plans don't allow for a long trip this year. Instead, work begins this week on laying the rest of the tile flooring in our house. Messy, dusty, hot...the hottest days so far are forecast for the end of this week...and half of our house off limits for a couple of days. Ugh.
Old tile will be jack-hammered out and old carpet will be ripped up. Yippee! Then, the beautiful new tile (
see how it looks in our kitchen here
) goes down and -voila- a floor we can love! I'll keep you posted, but this won't be quite as exciting as our kitchen redo was! LOL! (For you, anyway.)
Have a super week...stay cool...enjoy your vacation or whatever you have planned! And...have a safe 4th of July (US).
Be sure to check out my

Giveaway

!

You could win 1 Gallon of Tropical Traditions Gold Label Virgin Coconut Oil! Click on the button and

enter now
!
Ends June 30th!