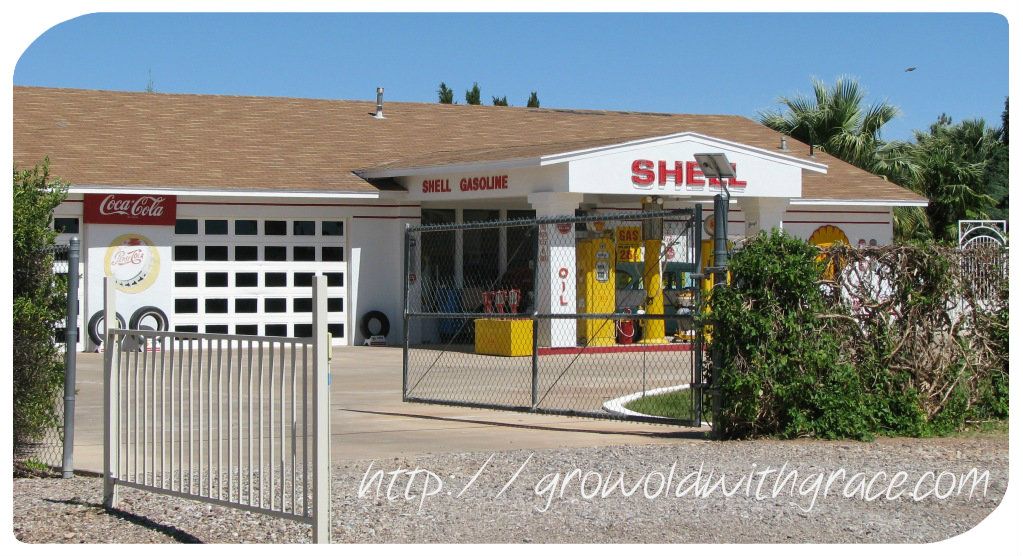 Not far from where we live, in a neighboring community, there is a hidden gem...a Shell Station replica in the middle of a middle class subdivision. Years ago we found it by accident...it isn't advertised, we had never even seen an article about it in the newspaper, and no one we knew was even aware it existed.
On our way home from a doctor appointment last week, we decided to take a little detour to see if it was still there. We didn't remember the exact location, but after a few turns and returns, we found it again. It looks just like it did years ago! It feels like a time warp scenario. Back to the fifties with the turn of the steering wheel.
Even the '57 Chevy is still in the driveway, waiting for gas. The place is spotless, well-cared for, and can only be a collector's dream come true type of building! Imagine being able to build and complete such a replica of the fabulous fifties. Why the owner chooses to remain anonymous us beyond me. There was no one around when we stopped to take a picture.
Next door and connected with a gate is a huge (humongous) two-story square house with a three-car garage and another house (for the gardener or butler?) attached to that. It had a tall fence around it with "beware of dog" signs on the gates. The only places we could see enough to glimpse beyond the wall were two wrought iron gates. The grounds are impeccably landscaped with large patios and well-established trees. I didn't take a picture of it, because it is a private residence, but believe me...it was way more elegant than the surrounding homes. It belonged with expensive estates, not common everyday houses.
This is a mystery that will remain so, I suppose, until the owner decides to share it with us...if ever. Meanwhile, our imaginations can dream up all sorts of reasons for its being. What do you think?

Be sure to check out my

Giveaway

!

You could win 1 Qt of Tropical Traditions Gold Label Virgin Coconut Oil! Click on the button and

enter now

!