Fire season has begun here in the desert Southwest. Arizona currently has three pretty good sized wildfires going and several smaller ones. Today, south and west of my city, there were three fires to cause concern to all of us. One is out, but may have had a flare-up an hour or so ago. It was the smallest, but the closest to structures.
The others are still burning. The worrisome one started across the border in Mexico and this afternoon it crossed into Arizona and is burning the dry grass that grew back after last June's Monument Fire. So far it is on the other side of the mountains from us. But, that's where it was last year when the winds shifted and increased, sending it right to us! The forecast for the week is hot, dry and windy. Not what we want to hear.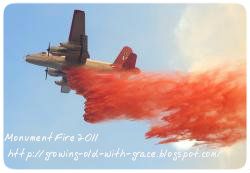 My friend who has
the alpacas
was one of the first to be evacuated last year and if the winds shift again, she could be right in the path again. She is hitching her trailers to trucks and getting ready if she needs to get her animals out quickly. It is scary.
Even those of us who live in town have learned that we are not safe if the winds carry the fire towards us. Last year hundreds were evacuated, some more than once. My section of the map would have been the next to be in pre-evac status. That frightened me. I was so focused on the fear of the fire and worrying about my friends that I could not make myself think clearly and get our "go bags" packed and our important papers, etc. in one place in case we needed to pack up and leave.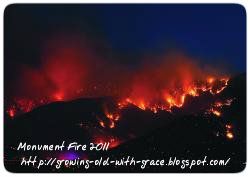 I will be more prepared this year. It is better to be ready and not need those things than to have 15 minutes to grab what you can and go. Preparing...packing...praying.
I used photos that I gathered from various facebook pages last year. If you took those photos or know who did, I would love to give credit to the photographers.