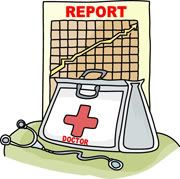 You will recall, from my last update,
HoneyBunny Gets Answers
, that for the last two months and then some, HB (HoneyBunny) has been dealing with Achalasia. It is a disease of the esophagus. He has not been able to swallow. I have been giving him liquid nutrition, similar to Boost or Ensure, and his meds through a feeding tube in his stomach. It's been an every-four-hour schedule for one or both. Forgive me if I doze off....Zzzzzz!
Last week we met with the Dr again and finally, it is time for the procedure that we hope will solve some of the problem. It is sort of complicated, but I'll make it short and sweet. The first procedure was a Botox injection in the upper esophageal muscle (yes, Virginia, it is
not
just for the lips and wrinkles) to relax it and allow food to go into the esophagus. It worked so "well" that it relaxed the upper esophagus, too, causing HB to not be able to swallow at all! Oops!
Now that the Botox is wearing off, he can swallow some things again, but only soft foods. He must be careful to eat slowly and chew well, and swallow twice at times. The next procedure will be another Botox injection, but this time in the
lower
muscle to relax it and allow food to go into the stomach. This should make it easier for HB to swallow larger bites and coarser food. He will still need to be cautious, but his eating will improve somewhat. It may never be what it used to be, but eventually, the tube will be taken out and he will adjust to his new "normal."
So, Friday, May 11th, we will go to Tucson for this procedure. Hallelujah! We will be praying for a successful one and healing for HB. We thank you for your well wishes and prayers, and are certain that it all helps!