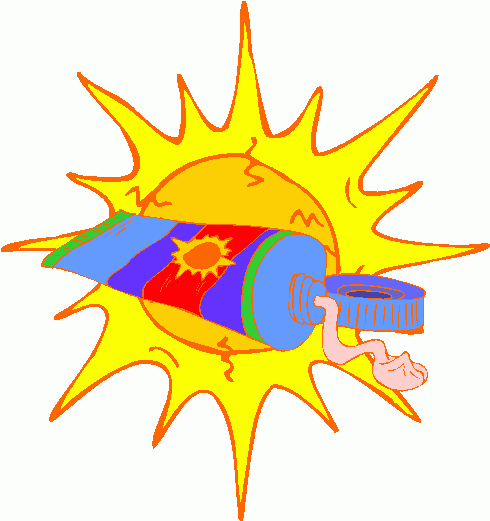 Don't forget the
sunscreen
when you go outdoors! And, wear a hat, too! Here in Arizona, we are at the top of the list for the most
skin cancers
, so we hear this a lot. It can't be said enough. Let me tell you my story...
When I was young I spent my summers at the local
swimming pool
- Peony Park in Omaha, Nebraska. Anyone remember it? It was built like a little lake, with sandy little beaches around the edge, diving boards and docks in the middle and packed with kids out of school. My Mom dropped my brother and I off and picked us up later in the day.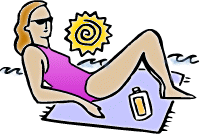 I am
fair-skinned
and burned easily. I tanned, but compared to my friends, I looked white as a ghost. I tried everything to get a tan...baby oil, oil with iodine and lying for hours in full sun ~ with no sunscreen. Oh, no...we didn't use
sunblock
! We used
sun enhancers
. No one knew about or mentioned the possibility of skin cancer back in the sixties.
Even in my twenties and thirties I was making regular visits to a
tanning salon
in that endless quest for the perfect tan. Tsk. Some of us are slow learners.
Now, in MY sixties, and even earlier, I have had to have several cancers removed from my face, hand, and legs. These are all places that I managed to get repeated bad sunburns. Now, I have
yearly exams
in an attempt to catch other spots before they turn into cancer. I must be ever vigilant.
So, when I take part in our annual
Relay For Life
event, as I did Mother's Day weekend, I have the dubious honor of being a Survivor ~ a cancer
Survivor
. When I realized I fit into this category, it was a shock, and scary. After all, mine have all been removed with a little cutting. I didn't suffer the "joys" of chemotherapy or radiation. I didn't need major surgery. I felt like a cheater...like I really didn't belong. But, I do. Cancer is cancer and I am still here. So, I do what I can to support our Relay event and
support
those who's battles are far more daunting than mine.
Do you have a cancer story? Were you a sun-worshipper in your teens?