Passion for Peregrines: Ambrose keeps count of falcons on upper Yukon River
Photo by Skip Ambrose An American peregrine falcon soars above the upper Yukon River, home to one of the densest and most studied peregrine populations in North America. More than 50 pairs of peregrine falcons nest in cliffs and rock outcroppings along the 160-mile stretch of the river between Circle and Eagle.

FAIRBANKS — Though he lives in Utah, Skip Ambrose keeps close track of how breakup is progressing on the Yukon River near Circle each spring. That's how he knows when he can start counting his peregrine falcons.

"I wait for 10 days after the ice goes out so there aren't big ice chunks coming down the river," Ambrose said by phone from his home outside Moab, Utah.

Riverboats and ice chunks the size of small cabins don't do well together and Ambrose travels exclusively by riverboat to do his surveys.

So when Ambrose got word earlier this week that the ice in the Yukon River had gone out at Eagle, 160 miles upstream of Circle, he knew it was almost time to head north.

"You can see the ice is going to go out any day now," he said Monday after looking at aerial pictures of the river that longtime Circle residents Dick and Earla Hutchinson had sent him.

Next week, Ambrose and his wife, Chris Florian, will hop in their Toyota Tundra pickup and drive to Alaska, towing a 24-foot riverboat behind them, to once again count peregrine falcons along a 160-mile stretch of the upper Yukon River that is home to one of the highest density peregrine populations in North America.

Longterm study

This marks the 40th consecutive year the 66-year-old Ambrose, a former biologist for the U.S. Fish and Wildlife Service in Fairbanks, has counted peregrines on the upper Yukon River. He started doing the surveys in 1973 and has witnessed the full recovery of a population that was once threatened by use of the pesticide DDT, which was contaminating the insects and birds they ate.

There were only 11 pairs of peregrines nesting along the Yukon River when Ambrose started doing his counts in 1973, the year after the use of DDT was restricted. Last year, as well as the two before that, there were 53 pairs of peregrines nesting between Circle and Eagle.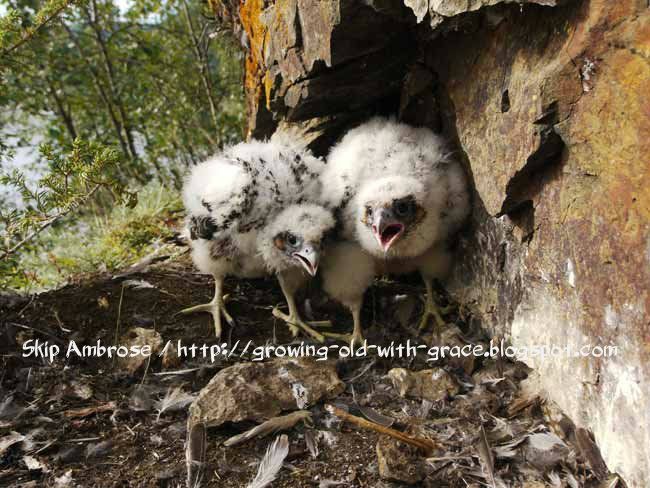 Photo by Skip Ambrose A pair of peregrine falcon nestlings are pictured in a nest along the upper Yukon River.


"They're as healthy now as they ever were," Ambrose said.

While he retired 11 years ago following a 28-year career with the U.S. Fish and Wildlife Service, Ambrose continues to monitor the peregrine population on the upper Yukon River on his own time and money. The National Park Service contracted Ambrose to train some of its staff members from Yukon-Charley Rivers National Preserve to do the surveys for a few years after he retired so they could take the research over when he stopped but that hasn't happened yet. Last year for the first time, Ambrose, Florian and the Park Service conducted independent surveys to cross-check their data and they will do the same again this year. The Park Service archives all the data Ambrose provides in a long-term data base.

Ambrose continues doing the surveys out of his own pocket because he feels it's too important scientifically to let go.

"It's my personal priority," Ambrose said. "Most wildlife studies in America are two-year masters programs, that's the way science is these days.

"A 40-year study is almost unheard of," he said. "It's not a very common thing to have one guy doing the same survey that long."

Spotting peregrines
Photo by Melanie Flamme Skip Ambrose, left, and his wife, Chris Florian, use spotting scopes to look for peregrine falcons on the upper Yukon River.
Using a riverboat, spotting scopes and a map of established territories, Ambrose and Florian spend about three weeks each summer traveling up and down the Yukon River looking for nesting peregrines on the cliffs and rock outcrops that are common along that stretch of the upper Yukon, some 1,800-feet high.

Peregrines arrive in Alaska in late April and begin mating almost immediately. Females are sitting on eggs by early May and fledging occurs in late July or early August.

Starting in mid-May, Ambrose and Florian spend about two weeks on the river searching for peregrine nests. They stake out potential nesting sites and use spotting scopes and binoculars to search for birds. They spend a minimum of four hours at each potential nesting territory.

"We know some so well we can find a pair in five minutes," Ambrose said. "Other times we have to spend three or four hours watching a territory."

They return in mid July, just before fledging, to figure out breeding success and productivity, i.e. how many chicks are born.

"We just go up the river and find where the nests are and find where the pairs are," Ambrose said. "After the eggs are hatched we go back and count the eggs to see how many birds are successful."

They normally cover three to five cliffs in a day and stop wherever that takes them. In the old days, they pitched tents and camped on islands or the riverbank. These days, they sleep in the cabin of the 24-foot Wooldridge boat that Ambrose bought two years ago.

Intense interactions

After seeing steady increases in the number of nesting pairs and successful pairs from 1975 to 2008, researchers have begun to see those numbers stabilizing in the last few years, an indication the population has reached it's maximum density.

Last year, 37 of the 53 nesting pairs they found successfully bred and produced 75 nestlings, an average of two chicks per breeding pair.

"What's interesting is we've been at 53 pairs for the last three years and it's almost like they've leveled off," Ambrose said. "Now we're seeing behaviors we've never seen before, like birds fighting with each other and killing each other.

"It's kind of like bears and wolves when they're really healthy," he said. "Their biggest enemy is each other."

Nests are located anywhere from one to 20 kilometers apart. The closer the nests, the more interaction Ambrose and Florian see between birds defending their territories.

"If a bird gets too close to a nest, the other bird comes out to defend their territory," Ambrose said. "Most of the time the intruding bird gets chased off."

Sometimes, though, the territorial battles can get intense.

"If it's a new bird looking for a territory things can get serious," Ambrose said. "They'll grapple in the air, lock talons and fall to the ground ... real serious fighting.

"We see it several times a summer," he said. "We call them floaters. They're non-breeders looking for a territory and they think they found one and then get beat up and hightail it out of there."

Another decade

Peregrines on the upper Yukon River — and elsewhere — are flourishing but they are still not completely out of the woods, Ambrose said.

While the use of DDT has been restricted in North America, that is not necessarily the case in Central America and South America where the Yukon River peregrines spend the winter. Ambrose and Florian collect unhatched eggs and analyze them for contaminants.

"We can see DDT in their eggs," Ambrose said. "They're still exposed to it. We know they're using DDT down there. It's not like it's hurting them yet but it's just something we're keeping an eye on."

Ambrose's goal conduct his peregrine surveys for another 10 years so he can write a paper detailing the last 50 years of surveys.

"To me, the next 10 years are really going to be fun," Ambrose said. "We're going to be seeing a normal peregrine population that nobody has studied."