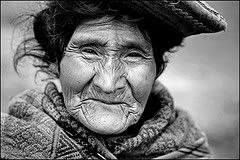 Andean Peasant Woman

Exploring Flickr.com can cause brain damage. Well, that may be an exaggeration, but it can put a strain on the brain, just sifting though all of the pictures. Some are beautiful, others are disgusting. Many are totally interesting.
Faces fascinate me. Faces have character. In particular, this woman has a face with so much character I just want to gaze into her eyes and imagine what her life has been like. Where has she lived? Does she have grandchildren? Does she work the fields and care for a household, even at her advanced age? Is she as old as the wrinkles on her face suggest? How is her health? Is there even a doctor within 100 miles of her home? What about her home? Does she live in a house, a lean-to, a tent?
I love her face. Her eyes are holding secrets, don't you think? What makes her smile? There are so many questions I would love to ask.
What would you ask her?