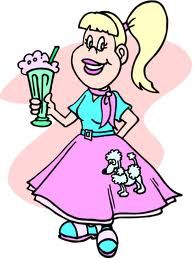 Memories of poodle skirts ,bobby socks and jukeboxes are swirling around in my head. Sigh...yes, I can remember wearing homemade poodle skirts with saddle shoes and bobby socks. I always made sure my socks were rolled just so. I felt very special.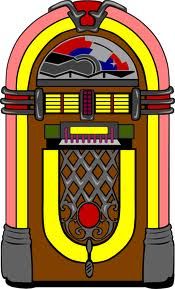 Jukebox music was the thing in the fifties. Forty five RPM records were the rage. Rock 'n' Roll, Elvis Presley, Bobby Vinton, Frankie Avalon...sigh...I was in love! I had an entire scrapbook filled with Elvis photos and articles. I loved the sock hops at school. Those were the days!
We had no air conditioning and we didn't seem to care. We just adapted.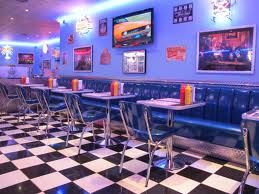 We walked through the business district and stopped at the diner for fries and catsup before catching the school bus for home. Sometimes we took a stroll through the Five and Dime. We rarely spent more than fifty cents. That was a lot back then.
It was a happy time and often sad, too. Growing up is such a conflict of emotions. What are your memories of school days and the way you dressed?