Every Mother's Day weekend for the last six years, I have stayed up all night, walking in circles with hundreds of other volunteers. Sound nuts? You'd be wrong if you thought so. We are among thousands who are willing to form teams and spend months raising money for cancer research. We don't want even one more person to hear those dreaded words, "You have cancer" ever again! So, we walk. All night. Year-after-year. Know what else? We have fun doing it!
My team is called the Plum Crazy Cruizers. Most of us are members of the same Red Hat Chapter, some are friends and family who join us in our fight to find a cure. Together we are awesome. We are fun-loving. We are committed.
What is Relay For Life Anyway?
Overnight relay-style event
Teams of people camp out around a track
Members of each team take turns walking around the track for the duration of the event
Food, games and activities provide entertainment and fundraising opportunities
Family-friendly environment for the entire community
We each have our own reasons for Relaying. Our own history with cancer. Some of us are cancer Survivors. (Yahoo!) Some of us are battling cancer now. (BooHoo!) Some of us have lost loved ones to cancer. (Sadness!) We Relay for a Mother, a Father, a Sister, a Brother, a Daughter or Son, and so on. You know. Nearly everyone knows someone who has been touched by this monster, cancer.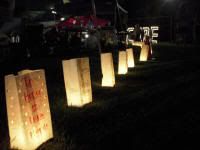 So we walk around a track lit by candles in luminaria bags. Each bag has the name of someone who knows cancer by its first name - Trouble! The luminarias are In Memory of, In Support of, In Honor of a loved one. Thousands of tiny candles to light up the night while we walk, and walk, and walk some more.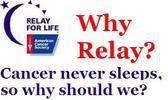 Why do
I
Relay? I Relay for myself, my HB (HoneyBunny), my Mom, my Dad, my Sister, my Sister-in-Law, my friends, and for
YOU
.
Do you Relay? You can find an event near you at
Relay For Life.org.