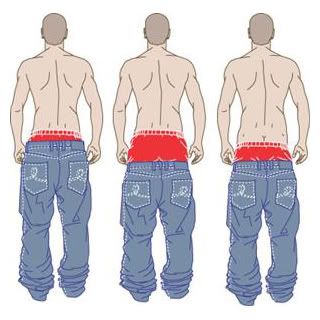 For Pete's Sake (who is this Pete guy anyway?) I say when I see boys and young men sauntering down the sidewalk or in a store with their pants sagging and their underwear showing! What are they thinking? Are they craving attention? What teen girl in her right mind (notice I qualified that, since many teens seem to be from another planet from the age of 14 to 20) would think twice about a guy with his behind hanging out? Why...there are even laws against this style in Florida and Michigan! If other states don't have such laws, they should!
Last week, a young man I shall call Tyler, since he was the tiler who put our new kitchen floor down, wore his pants in that fashion. Now don't get me wrong. He was very good at his job and entirely pleasant in his conversation - and most amazing, he listened to music that didn't burn my ears!
But...and, that is the problem...this
Grandma
should not have to be fearful of what she may see if she checks on the progress of the new floor going down. I don't want to walk through my
own
house and see some stranger's
butt
while he works on my new tile floor! That is just plain
rude
!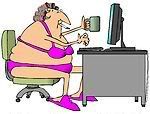 How do you suppose he would feel if I sat at my computer in my
undies
while he tiled my floor? Shocking as the thought is, I doubt he'd react at all. Kids have been so used to advertising using scantily clad women and loose morals for so long, they think it is normal. Well, I am here to tell you
it...is...not...
normal
!
So, when it comes time to lay the tile in the rest of the rooms, I plan to have on hand, the most garishly ugly
suspenders
I can find and meet him at the door with them! Hitch 'em up or come back when you find a pair of jeans that fit.
And, he is such a nice young man...with kids he takes to and from school...and I think he
must
have a Grandma somewhere...so, why is he
doing
this?