Pat & Pat (that's me on the right)
This last week I have been adding a lot of Red Hatters to my Facebook friends. I have to say, I am in awe of their hats! I have seen some stunning ones in my eight years of belonging to this Sisterhood, but this week has been quite exciting to see my new friends' toppers! It got me thinking of the hats I have worn. You can see some of them on my
Plum Crazy Ladies fan page.
I'd be happy if you'd "like" my page when you get there, too!
The photo above is Queen Pat (left) and me, Queen Mum Pat (right) at one of the larger events a few years ago. Several ladies got us confused, so we referred to each other as "Twinnie" and we had great fun together. We could always spot her in a crowded room, as she had the biggest, most outrageous hat! What fun!
my bra hat!
Red and purple hats come in all shapes and sizes. Some are fancy, some casual. Some are full of feathers & plumes, some are dainty. Some are daring, some are silly. My bra hat, made by a friend who is also Queen of her own chapter, is either daring, racy or silly...depending on how your day is going. The last time I wore it my face turned red...really! It was at our Relay For Life fun*raiser fashion show which was held at one of the local churches. In the midst of everything, Pastor Peter decided to stroll through to see how we were doing! Imagine my surprise and...well, you get the picture. He was either blind to my plight or gracious enough to look the other way. LOL!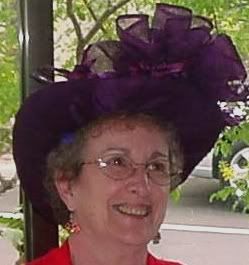 my birthday month hat
My purple hat is fancy schmancy and worn during my birthday month. I look Queenly in it, wouldn't you say? Did you know you could also be a Queen in this wonderful Sisterhood called the Red Hat Society? You sure can, just by starting a chapter and asking a few friends to come have fun! To find out more, go the
website
see what it is all about!