Have you ever noticed a dog's wagging tail? I mean really looked closely, studied the direction of the wag? Me, either...until yesterday. Jacob came in from outside and, as always, his tail was going ninety miles an hour! And, it was wagging in a circle - counterclockwise. Odd. It never occurred to me in all the years of having dogs, that there might be a message there or different wags.
Wagging to the right usually means the dog is happy and friendly. A left wag signifies that the dog is wary, unsure, or frightened. And..circles you ask? That is a sign of an
extremely
happy dog! Yep! That's our Jacob in a nutshell! He's a nut, and overflows with joy! As for Moses, well...it's all in the eyes - Moses has no tail. Sad, but true. He came to us missing a part, but we love him just the same!
You may be wondering where I came up with this weird topic. Actually, after noticing the circle wag yesterday, I decided to Google it and found that scientific studies have been done on this very subject! Who knew? (Our tax dollars at work, no doubt!)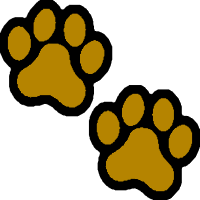 Okay, I know where you are going - out to check as many doggy tails as you can find, right? Ha! Enjoy your day!