Did you know that one in three elderly takes a tumble each year?

That equates to more than 1.6 million seniors ending up in emergency rooms just for falls.

For our elders, falling is the leading cause of death, of injury and or hospital stays.

That is alarming to say the least!
There are several reasons why seniors are apt to fall…
Too sedentary.
No regular exercise, decreasing bone mass, balance problems and less flexibility.
Poor vision
.

Not wearing prescribed glasses, or a current prescription, macular degeneration, cataracts and other age-related eye diseases.
Medications.
Many medications may cause increased incidents of falling, such as anti-depressants, sedatives, and drug interaction.
Diseases.
Diseases such as arthritis, Parkinson's and dementia can cause weakness in the arms and legs, poor hand strength, balance problems and confusion or cognitive impairment.
Surgeries.
Hip and knee replacements, as well as other surgery may leave seniors weak or in pain and discomfort, therefore less able to get around that before the procedure.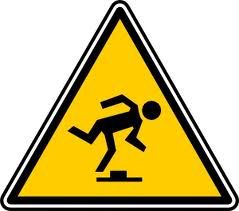 Environmental Hazards.
Most hazards for seniors are in their home.

One third of falls happen there due to such things as loose carpets or throw rugs, poor lighting, no grab bars or other safety equipment.
Environmental hazards.
One third of all falls in the elderly population involve hazards at home. Factors include: poor lighting, loose carpets and lack of safety equipment.
All of this sound rather grim, but just because we are getting older – even if we grow older with Grace – doesn't mean we will experience a fall.

We can be those who stay upright because we have grab bars in our bathrooms, carpet that doesn't have loose spots, removed throw rugs and are using those products that make our lives safer and keep us well-balanced!
Here's to an upright world, with fewer spills and no more ouchies! Here's to a toned up tuned in bunch of seniors, enjoying life in our sunset years! Here's to our health and well-being!
What are you doing to provide a safer environment for yourself or a loved one?