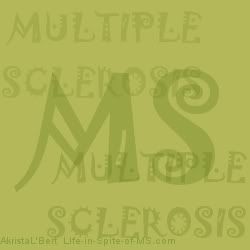 Do you ever hear loud vehicles on your street and look out the window to see what or who is making all the noise? I do. Call me nosey, but I prefer curious, thank you very much (
grinning
). Yesterday there was a loud truck out front and I investigated. Yikes - it was a big red fire engine and the occupants were headed straight for my friend's home! I quick grabbed my keys, told the dogs I'd be right back and headed over to see what was happening.
My friend/neighbor has MS (Multiple Sclerosis) and sometimes falls when she tries to transfer to her bed or in the bathroom. The paramedics come to help her get back in her motorized chair. That was the case yesterday. I kiddingly told her that some people will go to great lengths to get two hunks in their bedrooms! She laughed, albeit weakly.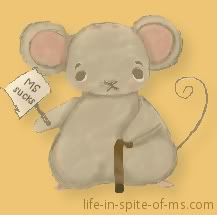 MS robs you of your dignity. Nevermind that you are attempting to take care of a perfectly normal bodily function. If MS wants to weaken your legs at that moment and send you sprawling, it will do just that! And, 911 must be called to help you get back up. It is humiliating, it is embarrassing, it is horrible ~ and sometimes you get hurt.
These heroes in blue tell her not to be embarrassed, don't feel bad...it is part of their job. It is what they do. They are so caring and their words are soothing, but the humiliation of having a stranger clean you off, pick you up, and get you dressed does not go away easily. It brings on fears of what the future holds. It makes you feel like you can never thank them or your friends enough. It reminds you of how cruel this disease can be.
My friend is strong through it all, and I admire her so much. Oh, sure, she has her moments, but they pass and we can laugh, act silly, and carry on like girlfriends do.
You can get to know my friend at her new blog site, and find out what a blessing she is to those of us fortunate enough to be called her friends. She is a poet, a writer, a greyhound Mom, a Christian, and a gal with an attitude (at terrifically positive one!). She is my friend, Pandy. Visit her at
Pandora ~ Out of the Box
. Tell her I sent you and follow her...I know from experience that you will be blessed by her writings!