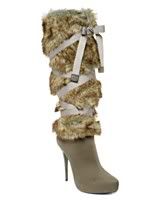 Have you shopped for shoes lately? I admit I haven't. I don't enjoy shopping for shoes or clothes. I know...something is awry in my DNA! But, I need some dressy casual shoes, if there is such a thing, to wear with my dressy jeans, my slacks & sweaters, and such. I don't dress real fancy since I stopped working a dozen or so years ago. I dress in comfortable clothes. I just don't look like a fashion model. I look like a fluffy Grandma. So, I try to shop for clothes and shoes that feel good and hopefully look good.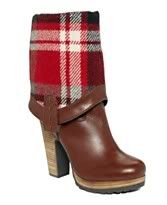 So, today, while we were in Tucson for a medical procedure (HB HoneyBunny's) we stopped at the Mall to look for shoes for me. It had nothing to do with the Macy's Christmas gift card we got! Really! Well! Have you seen the styles? Mercy me - a sixty-something woman could get hurt wearing most of the shoes in the stores today! I wouldn't dare to even stick my toes in a pair! The platforms are so high or the heels so long and skinny I could not possibly maintain my balance for even a minute! I'd be in the ER in nothing flat!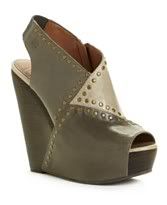 And, did I mention
ugly
? (my opinion, mind you). I know some of you are younger and probably think these are the bomb, but I am definitely
not
young and I find them unbearable. Do department store buyers even know ladies over fifty exist? Does it ever enter their minds that we just might want shoes that are fashionable as well as comfortable? I am here to tell them that
YES
we do! So, where are they? Show me the stores that carry them! Point me to a buyer who understands us!
At long last I did find a pair of flats at Sears that will do until I find something better. Tsk...it is like hunting for a needle in a haystack. I simply cannot wear tennis shoes everywhere. I need something between tennies and these dangerous designs that are sitting on shelves everywhere! This may take awhile!