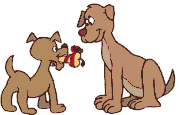 We got a phone call yesterday. A friend was calling on behalf of a gentleman who is in the hospital and very ill, who needs to find a home for his two dogs. She was referred to us by another friend who knew we had to put our two dogs to sleep over the last six months.
Really, I thought HB (HoneyBunny) would say not now, since we are about to take on the "Great Kitchen Redo," but his soft heart said "yes." There is no way he would take a chance that two dogs would end up in the pound because they didn't have a home.

We are going to go meet the dogs this morning. While we have not yet given a definite "yes" to this, we are going with leashes and blankets to cover the back seat of the car - just in case, doncha know!
All we know is not much. One is an five year-old lab or golden retriever male. There seems to be a difference of opinion on the mix. He is a "love" according to my friend. He also wiggles from nose to tail tip when he gets some attention. I can live with that. His name is Jacob.
The other is an older male of unknown (to us) origin. He is fifteen, but we are told he has no serious health issues. The friend only briefly mentioned him, thinking no one would want such an old guy. His name is Moses. We could not imagine taking one without the other. After all, we know what it feels like to be shoved aside just because you are old. Sorta, anyway. Not that we have been shoved aside, but it happens to folks our ages. We understand how this can happen.
So, what do you think? Will we come home with new family members? Stay tuned...I'll let you know how it turns out.