This time of year I get catalogs from every store known to woman, and some unknown! All of these businesses could add millions to their bottom line by eliminating just half of the paper they mail out each week! One particular home decor company sends me one every other week - all because I purchased one tiny little gift card from them last year.
Shop here, shop there...buy me, gift this! Obviously someone has me mixed up with Mrs. Gotrocks, which I can assure you I am not even close! Shopping is just not my bag (pun intended). Necessities and gifts for others are occasions to make a trip to the Mall or to the big city. Otherwise, I may very infrequently shop online, but again, it is almost always for something I need. Not much whimsy on my lists, except when it comes to Red Hatting - for that I might be tempted!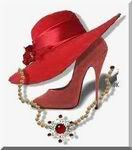 Back in the day catalogs were recycled to the outhouse. Now,we just toss them in the blue can for the monthly pickup. What a waste of a perfectly good tree! This country is so totally wasteful...as well as waist-ful, I might add! (But, that's another blog.) If these mailings could be stopped with only a phone call, I'd be tempted to dial them up, but then I fear they will add me to their telemarketing list! And, unsubscribe online? Fat chance. That would give them the opportunity to slip my name onto their million mile email distribution! I'm probably there already! Sigh...
How deep is your catalog pile?