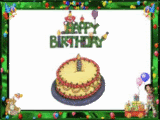 Today would have been my Dad's 100th Birthday. He didn't live long enough to reach this milestone, but this day has been on my mind for days now. I don't think he cared whether he lived a long life or not. My Mom always said
she
planned to celebrate her 100th Birthday, but she died too soon, too. I don't think I want to live that long. Chances are, since both of my parents died from complications of Alzheimer's Disease, I would have no memory of that accomplishment if I did live that many years.
My Dad was a talented man. He crafted shelves, picture frames, plaques and all sorts of things in his workshop. He refurbished an old school bus into a camper. He was a good hunter and fisherman, providing meat and fish for many dinners. He raised chickens, calves and sheep to provide more meat for our freezer. He designed jobber catalogues. He could fix most things.
He had his faults, but for today, I wish only to remember the good. I remember going on long rides every time he bought a new car. Back then, the cars needed to be "broken in" by driving them so many miles at certain speeds, etc. I just know that it meant long rides in the country, and a stop at a favorite take out place for chicken-in-a-basket - on a warm summer night with the car windows down.
He raised beagles for a time and his favorite was Brownie, one of his hunting dogs. He also had two Golden Retrievers named Buff and Sandy who were hunters. There were always "pet" dogs, too, that we kids could pal around with.
I spent a lot of time being angry with my Dad, (he drank too much) and not respecting him as I was growing up. I miss him now that it is too late to tell him how much I loved him, in spite of being angry. Deep down I did love him, and I miss him now.
How I would have enjoyed singing Happy Birthday to him today.