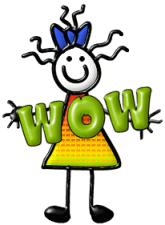 Do you ever have a word that just drives you crazy? I do, and tonight it is "Wow!" I am working away at my computer, writing a book review. In the background I can hear the television with one of those home hunter shows. Everytime a woman - it doesn't matter which show, they are all the same - enters a room that overused, irritating word pops out of her mouth!
Personally, I think is should be in the contract that no one may use that word on those programs. Really, in the country where the majority of people are educated and literate, isn't there another word or two that could be exclaimed upon viewing a room in a house? How about "Yikes!" Or, maybe "Heavens to Betsy!" I am willing to bet it would get the audience's attention if someone were to say "Eeeeek...I think that thing is still alive!" But, no one asks for my advice.

These programs have taken redundancy to a whole new level. It boggles the mind. It insults our intelligence. I dumbs down our children. Can we please just stop it! Now! It makes me want to write my legislators and ask them to declare that word obsolete and never to be spoken again. It would go a long ways towards relieving my grumpiness while I am trying to work on a project. I suppose those TV folks don't care much about my opionions, but now that I have gotten on my soapbox, I feel better anyway. Nevermind.
What word sets you on fire?
Here's where I'll be today! Hop with me! Just click on the buttons!

Hugs from