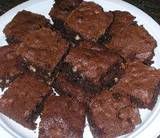 There is a special dessert that my grandchildren just love. It's my brownies. When they were younger I would tell them the recipe was a secret, but after a few years they figured it out. Betty Crocker and I teamed up to bake those super-delish chocolate brownies. They were preferred over birthday cake for a few years! Imagine that. It always amazed me that they thought they were/are so good, but maybe it was because no one at their house was a chocoholic like their Grandma! (giggle)
When my kids were young I made brownies from scratch. It just seems easier and faster to use a mix nowadays, and to me, they taste the same - yummy! There are no grandkids within 100 miles now, but HB (HoneyBunny) and I still have them from time to time. To me they are comfort food. Do you feel that way, or have a favorite food that gives your that snuggle-in-a-blanket-by-the-fireplace feeling? That's what brownies do for me.

My scale tells me I should not indulge myself, even occasionally, but my mind overrules the scale and I find myself mixing up a batch, savoring the aroma as they bake. They don't even get a chance to cool down before I am sampling them (just to make sure they are fit to share, of course).
What's your favorite treat or a dish your family requests often? I love hearing about traditions in families!
Here's who I'm "Hopping" with today...check it out, join the fun, meet new friends! Click on the button...