It would take a detective several days to locate the various pieces of exercise equipment in our house! Oh, the air bike is out in plain sight, but has a coating of dust a mile thick. But the gazelle (where did that name come from?) is buried under tubs of books in the back room, as is the rowing machine and a few other things that I don't even know the names of!
I'd like to know why we don't buy these things when we are young and can use them without causing major injury to ourselves. No, we wait until we are older and then it becomes urgent that we get back into shape after several years of being totally limp on the couch watching TV. What are we thinking!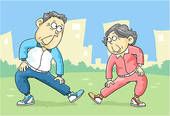 Now we have several machines that seem to work best as clothes trees and supports for boxes. We rarely use any of them. We take the easy way out - we go to the gym where they dust regularly and the machines are out in the open. They even help us figure out what to do and when. Tricking ourselves into calling our gym dates "appointments," we set a time and we show up. Well, most of the time.
So, now the dilemma is...what to do with the equipment around here? That is what HB (HoneyBunny) is pondering tonight. He is sorting through things in the back room, decluttering, and must decide what goes in the yard sale pile and what stays. Oh, the pain of making that decision. But, look on the bright side...if we sell some of it, it may help pay for the cost of going to the gym! How silly is that!