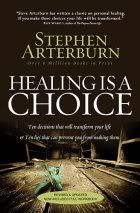 Healing Is A Choice by Steve Arterburn
Ten Decisions That Will Transform Your Life & The Lies That Can Prevent You From Making Them
After having listened to Steve Arterburn's radio show, New Life Live, and hearing him talk about this book, I have been wanting to read it.

So, when it was one of the choices of books to review, I jumped at the chance!

As the title states, the author cites ten choices one can make to heal, whether emotionally, physically or spiritually, and ten lies Satan plants in our minds to make us think we can't heal.

He tells us the choice is God's and He will equip us if we just trust Him to get us through our situation or the baggage of guilt, unforgiveness and/or shame that we have been carrying around for years. The workbook for this was included with the Kindle version, with corresponding workbook segments after each chapter.
Arterburn pulls no punches as he gives us suggestions and prodding – and gives us real-life examples of people who have faced the challenge of healing and succeeded or are at least on the right path to healing.

It is to the point and written so the average person can understand.

There were many places in the book where I found my own baggage and was forced to face some issues that I have had buried for years.
I will re-read this several times as I let each challenging point sink in and I work on my inner healing, too.

That wasn't my first thought when I began this book, but it is what I have come away with – a promise to myself.

I highly recommend this to anyone who has experienced unforgiveness, emotional and/or physical abuse, and any other unresolved issues.
Disclosure of Material Connection: I received this book free from the publisher through the BookSneeze®.com <
http://BookSneeze®.com
> book review bloggers program. I was not required to write a positive review. The opinions I have expressed are my own. I am disclosing this in accordance with the Federal Trade Commission's 16 CFR, Part 255 <
http://www.access.gpo.gov/nara/cfr/waisidx_03/16cfr255_03.html
> : "Guides Concerning the Use of Endorsements and Testimonials in Advertising."