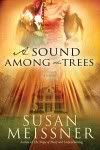 Announcing the winner of my very first Giveaway!

has won a paperback copy of
A Sound Among the Trees
by Susan Meissner
You can congratulate Heather here and on her blog, too!
A special word of thanks to Heather and to everyone who entered this Giveaway contest! It is so encouraging to know you all supported my first effort at offering a gift!
Hugs,
GraceinAZ