Yesterday I made beef stew in my crock pot. It is supposed to be a slow cooker, but someone didn't get the memo. It cooks fast, very fast. I could never start something in the morning and let it sloooowwwww cook all day - it would be dehydrated by supper time! So, I started it right after lunch. It was a simple no recipe stew. Just a package of stew meat browned, carrots, onions, and potatoes cut up, a little water, some seasoning and two cans of stewed tomatoes.
Our friend Lulu was staying for dinner, so I set the table with my new dishes (see previous post about
Retail Therapy
). Then, I got out the bread machine and started some sour dough bread. In about two hours, the aroma was taking over the house! It was about that time that I discovered that I had used Italian Style stewed tomatoes, which have peppers as one of the ingredients. Oops! Lulu is deathly allergic to anything with any form of peppers - sliced, spiced, anything! Now I really felt bad. I had looked at the labels, but obviously, my aging eyes glanced right smack over the two important words -
Italian Style
.

It took me a while, but I finally found a soup that didn't have any peppers, so (whew!) that saved the day! (And, Lulu!) Dinner was still good to go! Before we ate, LuLu and I delivered a big bowl of the stew to my neighbor and friend, Pansy, who was in the doldrums with a bad toothache. I was sure this would be the perfect cure!
Yes, of course there is a point to all this jabbering. It is that after dinner I got to thinking about me and the kitchen. I used to love to cook meals, especially for company and family gatherings. Now, not so much. There is no apparent reason. The older I get, the lazier I get about certain things. It felt
good
to cook that stew. It felt even better to share it with friends. Who cares if we have leftovers or not. Isn't it more important to share what we have with others?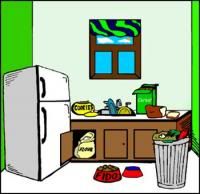 Is it just me, or do you find yourself taking the easy way to dinner, tossing something together at the last minute? What have I become? You know, I even dream of a large kitchen with a double oven, stainless steel appliances, a huge refrigerator, an island with its own sink for prepping foods. Then, I dream of the ultimate outdoor kitchen, complete with a fireplace, refrigerator, sink, and drawers for dishes and utensils. I could live here, I tell myself. I
would
live here, I say again....if only...maybe someday...
But, that will most likely never happen, so I had a little chat with myself after dinner. Learn to love the galley kitchen you have and make use of that cookbook collection that you love.
Create
a meal, don't just throw one together!
Tempt
the palate,
tantalize
those taste buds, perk up the presentation - you can do it! Go forth and COOK! And, I shall!