"Nature is calling." How often do we find ourselves saying that lately? You know the feeling – the urgency, the rush to get to the bathroom once the brain gets the message. Well, I'm here to tell you that my bladder has radar! I am okay driving home, and still fine when I pull into the driveway. But, the second my foot steps into the house, the urgency hits and I must make a mad dash down the hall, hoping all the while that I will get before disaster strikes.
It's another of the blessings of aging. I've had many bosses who stressed a sense of "
urgency
" in the workplace…well, now we have
stress
urgency in the home place! We aren't incontinent, but we leak when we laugh, or cough, or get up too quickly. We used to giggle at our grandparents when they tooted as they walked; now we are afraid to move lest we sound like a duck! How did this happen to us?

There must be some help for this, if not a cure. My doctor prescribed some pills for me which only made the matter worse! They are still sitting in my medicine cabinet since I refused to take any more. That wasn't the answer. Crossing my legs till they turn blue isn't practical, so what am I to do? I drink more water because I have read that that helps, even though it sounds like it would make the situation worse. I head for the bathroom the minute I feel my bladder is full. I even resort to using the restrooms in stores if I must.
All this is probably more than you ever wanted to know about me, but listen…this is important! You younger ones can go ahead and laugh while you can…your day will come, too. Those of us of a certain age are no longer smiling. We are hesitant to walk across the room, afraid we will be mistaken for a whoopee cushion! I am hoping going to the gym three times a week will strengthen the necessary muscles in order to solve the problem. Do you have any suggestions? If so, post them here so we can give them a try!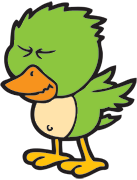 And, if your bladder also has radar, I'd love to know I am not the only one!