Are you old enough to remember singing
London Bridge is Falling Down
throughout your childhood? Then perhaps you, too, are wondering what on
earth
Robert McCulloch was thinking in 1967 when he placed a bid on this landmark! Was anyone aware that millions of us were jumping rope or holding hands and all falling down to this tune? Did London ask us if it was okay to move the bridge? Did Mr. McCulloch care that it meant so much to us – did he even know?

In 1968 the bid was won by this Lake Havasu, Arizona, city founder. The bridge was taken apart, each piece numbered, and it was shipped and then trucked to Lake Havasu to be rebuilt as a tourist attraction. I don't know about you, but this bothers me…that this magnificent structure that had been built in 1831 was now in the United States. It just doesn't fit the Arizona décor, if you know what I mean. We are all about cactus and desert, not ancient granite. WWII scrapings that can still be seen on the stones don't mean the same here that they meant when touched by someone in England. The current setting, on a boater's playground does not help to preserve her dignity.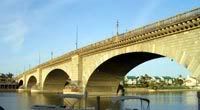 And….and…of all things…after carrying all those blocks of granite more than 5400 miles to get them here, they never even used them all when they rebuilt the span! Nope. According to the October 12, 2011 Sierra Vista Herald newspaper, the new bridge only has a casing of the original granite, and the other pieces left over are just laying in the city maintenance yard, of all things! Its insides are who-knows-what materials. Tsk…the poor thing.
If I was younger…ahh, I seem to say this often nowadays…I would start a protest movement. I'd call all former jump ropers and all grownup "all-fall-down" folks and ask them what they think of this "tourist attraction!" Ha! I might want to go see it – IF it was in London. But, Arizona? Not so much.