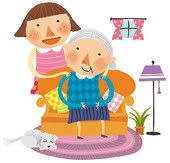 My memories of my Great Aunt Anne are few, but the ones I have are etched forever in my mind.

They make me smile.

They are the reason I never want to become a little old lady. Oops – too late!

Snickering…

I hope my Grandchildren remember me as a fun old lady, if nothing else.
Aunt Anne was a twin to Aunt Bess, but they were not so much alike as I remember.

Aunt Bess had been married.

I can't remember to whom or what happened to him, but I remember her being warm and nice.

Aunt Anne was nice, too, but what I recall about her was different.

She was what was referred to then as an old maid spinster.

She called everyone "Dearie" in her high-pitched, shrill old woman voice.

It was like fingernails on a chalkboard.

I don't think anyone in my family enjoyed hearing her.

My brother and cousins and I would hide out in the upstairs bedroom and play to get away from the adults.

We got Christmas presents from Aunt Anne every year when I was little. She was very predictable. My Dad always got a tie, my Mom and I always got a handkerchief – just one each, and I don't remember what my brother got, but maybe socks.

Practical, I suppose, but certainly not what a six year old was hoping for.

We all laughed and guessed what was in our packages each year, knowing we would get it right every time.

Her thrifty nature was not because she was short of money.

No, I believe that is why she had money.

She never spent more than necessary for anything.
She must have been a very serious person.

I have a letter she wrote as she traveled across country during a flu epidemic at the turn of the century.

It was insight into the strength of character of Anne and her family.

They settled in Iowa and farmed a large plot of land.

That's all I know of her.

I wish I could have asked her questions about her life and what she learned as she lived it.

I know now that she probably was a very interesting person with a great story to tell.

I am sorry I was too young to know that when I was six.

And, by the way...

If I ever call you "Dearie" just slap me silly!