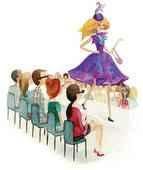 It's Friday and I am glad. That means our fashion show fun*raiser is almost upon us. Saturday is the big day, but today is the time to set up the room and decorate. Excitement is in the air. A bunch of sixty something women and a few younger ones, will be rolling out the tables, scooting the chairs, slipping on the tablecloths, plopping down the centerpieces and creating splashes of color throughout the room.
This is the fourth year my Red Hat chapter (which is also our Relay For Life team) has held this fun*raiser and is our team's most successful money raising event of each year. Red Hat ladies come from 80 to 100 miles away to join us in our fun, all dressed in their red and purple finery.
Saturday is the big day! Some of our ladies will be modeling fashions from our local Dillard's store. Some will be Galley Slaves, helping with the lunch. Others will be hawking raffle tickets. Vendors will be showing off their wares, selling goodies to the guests. You can wish them all luck, but with ladies of a certain age, it is just not wise to say "Break a Leg!"
The emcee (by default) is "guess who!" It could be very interesting, since today I hardly had a voice! I rarely get laryngitis, but with my luck, this will be the day! How do you welcome a crowd with no voice? Flash cards? Hmmmm….not a bad idea! Couple that with my sore knee and I will be quite the comical character!
Stay tuned to find out how it all turned out! Let's hope our story doesn't end up on Breaking News!