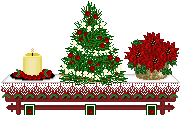 Holiday time is a good time for lists. Creating them keeps us on track for projects, and at this time of year, for getting ready for Christmas or your favorite holiday. I usually have a mental list, but I do much better when I write things down.
Today, I thought I'd share my list with you and maybe give you a tip or two you might not have thought of:
1.
Make a list of everyone you need to buy gifts for,
including their sizes, things they would like and how much you can spend.
2.
Make a list of everyone you want to send Christmas cards to - write the cards or at least address the envelopes.
Keep a few cards with you to write during "waiting minutes" when you're at the doctor, picking the kids up from school or on a work break.
3.
Finish sewing, knitting, crocheting, and/or craft projects now – don't wait until the last minute.
4.
Decide what cookies and candies you want to make.
Set aside the recipes now.
5.
Mix up the dough several weeks ahead and freeze. That way all you have to do later is bake them.
6.
For cookies that you can't freeze,
measure all the dry ingredients and put them in a plastic bag. You can even do this three months ahead. Be sure to label the bag so you remember what is in it!
7.
Decide what you are going to serve for holiday dinners.
Set aside the recipes.
8.
Several months ahead of time, put a bag or container in the freezer
and put in any unused slices of dry bread to use for your turkey dressing.
10.
Organize your gift wrap, make sure you have enough paper, ribbon, bows, tape,

etc for the gifts you will be wrapping.
11.
Get out the tree and ornaments and decorate the house (outside, too, if you do that).
13.
Listen to Christmas music – it will get you in the mood for all things holiday.
14.
Bake cookies to be used for gifts and mailings, and get them delivered or on their way.
15.
Make time to enjoy the season – window shop, take a drive to see the lighted houses, go caroling.
Your list may be different from mine, but the point is, a list can be helpful during this busy, stress-filled time of the year. Happy to-doing and a have the best holidays ever!