This has not been a happy week around here. No one feels much like smiling. It is hard to find one when friends come to the door. Our Fur Friend, Katie was put to rest on Tuesday, as you may have already read in my earlier post. Tears are easier to squeeze out than a grin. It won't last forever, but today, our smiles are hiding.
Do you ever wonder why people who ask us why we aren't smiling are…yep, you guessed it – not smiling? I do. Are they really asking us if we would please smile because they just can't? All of my life, it seems, people are either asking my why I am not smiling or telling me they remember me for my smile. Hmmmm…so which is it? Do I smile or don't I? Truth is, I do both and I have never felt compelled to smile just because someone else thinks I should. Smiling is for joy, jokes, surprises, and happy occasions. They are special for the very reason that we don't constantly smile at every little thing. Am I way off base here, or do you feel the way I do? What would a smile be if that was all we did? We'd look like the "What, me worry?" kid if we did that.
There are different kinds of smiles. Some people have a sly smile, like Mona Lisa. Others crinkle up their eyes and smile with their entire face. Or how about the ones who laugh/smile – they can't help doing both at the same time. Did you ever snort milk out your nose, laughing or smiling? Or cough till you nearly choked? Who's got a good belly laugh out there? You? Your Uncle Harvey? We all know someone who has a certain way of smiling and laughing.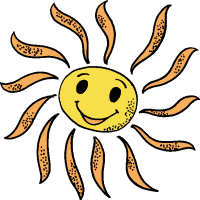 Health gurus tell us to smile because it is good for us. So, okay, I can agree with that. I do feel better when I am smiling. I try to give away my smiles, and that makes me happy. Smiling at babies always fills my heart when they just naturally return the favor. Maybe I just lost my smiles for a couple of days and - poof - I'll find them again tomorrow? I hope so. I want some of those smile wrinkles to go along with the other crinkles I have going on on my face nowadays! The last thing I want to be is a grumpy, frumpy ol' lady. Here's a promise...I will pop out of bed in the morning and smile at every little thing I see! Well, almost everything, anyway.